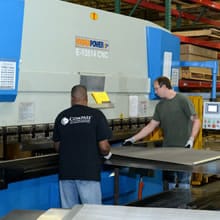 Our secret weapon is our experienced staff. Many of our staff have been with us 20 years or more, and they are experts in the field.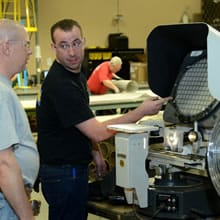 Our ISO 9001:2008 certification means first-time quality, every time.
Compass Wire Cloth produces replacement screens to fit all vibratory separators. Used to separate solids from liquids or segregate dry material into various sizes, these screens are fabricated to ensure maximum screen life through efficient product performance.
Used to separate solids from liquids or segregate dry materials into various sizes, out hooked screens can be fabricated and tailored to meet your specifications.
Shrouds made of all alloys, including stainless steel, mild steel, copper, etc, are enhanced by various types of insert material such as canvas, mesh, metal and urethane.
Years of research and testing have provided us with the ability to maximize screen tension with the perfect combination of shroud gauge and insert material. Complete replacement panels are delivered ready for installation.
When required, we can provide other unique add-ons such as backing cloth, open end preparation (canvas, urethane, hemming) and reinforced bolt holes.
Screens for all OEMs:
Derrick ®
Hewitt-Robins
Mogensen
Seco
Telsmith
TEA (Thermal Engineering)
Universal